Overview
The East Bull Lake Property covers 80% of the Paleoproterozoic East Bull Lake Intrusion ( EBLI ) located 80 kilometers west of Sudbury, Ontario. It is a partially preserved gabbro-anorthosite lopolith 22 kilometers long x up to 4.5 km wide. The property hosts disseminated and structurally controlled platinum and palladium dominant mineralization associated with chalcopyrite. During the 1990's, the property was the subject of a mineral potential study funded by the Ontario Ministry of Northern Development and carried out by researchers at Laurentian University. The potential of the property was summarized in an excerpt from Explor.Mining Geol. Vol.2 No.1 pp.85-104, 1993 ( Peck, James and Chubb ) that concluded
" The Magmatic sulfide occurrences from the east Bull lake intrusion compare favorably with margin-tyupe deposits from rift-related intrusion( Noril'sk-Talnakh region, Siberia; Duluth Complex, U.S.A.) in terms of their distribution, but are most similar to reef-type PGE deposits with respect to their base- and precious-metal geochemistry. The combination of high PGE-tenors and large tonnages that is observed for the PGE-Cu-Ni mineralization from the East Bull lake intrusion suggest that good potential exists for the presence of economic concentrations of Pd,Pt,Au,Cu and Ni in the intrusion. On a global scale, the East Bull Lake intrusion is part of a suite of Early Proterozoic plutons, many of which contain significant volumes of stratiform and/or marginal-type PGE-Cu-Ni mineralization. "
The East Bull Intrusion was later classified as a distinct type of geological formation that hosts significant PGE Deposits.

Property Location and Access
The property is 80 km west of Sudbury and is accessible by way of paved highway and then year round gravel highway that transects the property. Sudbury is a world leading mining and smelting centre.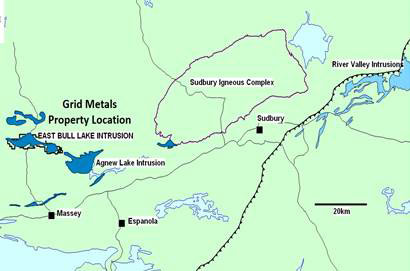 Geology
The East Bull Lake Intrusion ( "EBLI") is one of several Proterozoic aged ( 2.44-2.49 Ga ) layered mafic intrusions that form the Huronian-Nipissing Magmatic Belt which transects the southern margin of the Archean Superior Province, the Proterozoic Southern Province and the Grenville Province. The nearby younger (1850Ma) Sudbury Igneous Complex is un-related to the EBLI suite.
Mineralization
Sulphide mineralization at East Bull is divided into three types based on stratigraphic position, structural setting and PGE tenor. The three types are Contact-type, Structurally controlled and Disseminated. The Contact type mineralization occurs along the margins of the intrusion. Structurally controlled mineralization is associated with the major structural zones of the intrusion. Disseminated mineralization is found in distinct layers higher in the stratigraphy. In general the PGM tenor of the mineralization at East Bull is high.
Previous Exploration
1952 – 1992
Drilling by Silcross Copper Mines ( 3 holes ) north of the Parisien Lake Area – best assay 1.65% Cu; 8.81% Ni. Drilling 14 holes by El-Pen Ray Oil and Mines Ltd. ( Moon Lake Area ) – best assay 0.49% Cu and 3.93% Ni – no PGE analysis.
1982-1989
Atomic Energy of Canada completed mapping stripping ground and airborne geophysics and drilled 4 holes to assess EBLI as potential radioactive waste storage site.
1987-1990
First PGE focused exploration of the EBL included airborne magnetic and EM surveys and trenching. Best assay 13000 ppb Pt, 4200 ppb Pd in contact style mineralization from trenches.
1990-1996
Ontario Geological Survey and Laurentian Univ. – completed detailed geological metallogenic and petrogenic studies of the EBLI .
1991-1992
Inco Exploration – completed mapping and drilled 5 holes (1512m).
Best Assay: 200ppb Pt, 950ppb Pd, 0.57% Cu, 0.22% Ni – grab sample
Best Assay: 350ppb Pt, 3080ppb Pd, 14.7% Cu, 0.49% Ni
1994
Peter Chubb – M.Sc. thesis Laurentian University
Petrogenesis of the Eastern Portion of the Early Proterozoic East Bull Lake Intrusion
1995
WMC International Ltd. – completed mapping, rock, soil, and till sampling.
"Neck Zone" – reported continuous zone of 5% blebby sulphides (on old Peck Grid)
1998
Mustang Minerals – acquires newly released from staking and staked claims from prospecting groups in-fill staking to form a large continuous property.
1998-2000
Freewest Resources – Folson Lake – acquires claims covering prospective Lower Series between Mustangs Folson Lake and Bullfrog grids. Discover Valhalla showing during staking. Best Assay: 1350ppb Pt, 3150ppb Pd, 230ppb Au, 0.7% Cu – grab sample
Complete prospecting, blasting, geophysics, and drilled 27 holes (2902m) – all holes intersected anomalous PGE values. Best Assay – 1.96m PGE over 24m
2000
Aquiline Resources – PLDZ and SE West Lobe -- completed mapping, IP and magnetic surveys, and drilled 10 holes (1287m). Anomalous PGE values reported.

Mustang Minerals
1998
Moon Lake Grid – 8 holes (1198m, ME98-01 to -08) test zone over 400m strike
Best Assay: 1070ppb Pt+Pd+Rh+Au / 13.5m includes 5650ppb / 1.5m (ME98-01).
1999
re-logged, re-sampled AECL holes EBL-1, -2, and 4 – anomalous PGE values
Bullfrog Grid – mapping, magnetic and IP surveys, drilled 3 holes (ME99-09 to -11)
Best Assay: 1170ppb Pt+Pd+Rh+Au / 6.5m (ME99-11)
1999-2000
Bullfrog Grid – mapping showed Valhalla showing extends eastward onto Bullfrog grid.
Best Assay: 16500ppb PGE, many with 2000 to 10000ppb PGE – grab samples
Drilled 11 holes (ME99-12 to ME00-22) defines mineralized zone over 600m strike.
2000
Fire Tower, Peck, Folson Lake, Parisien Lake, South, and East Lobe Grids – mapping identified mineralization of the Peck, East Lobe and Parisien Lake grids.
Best Assays: 3830ppb, 2090ppb, and 4980ppb Pt+Pd+Au, respectively – grabs.
Drilling James Pond – 614m, ME00-23, -25 targeted 2 deep IP anomalies, no results.
Drilling Gallo's Pond - 1207m, ME00-26, -30 intersected unmineralized Anorthosite
Drilling Peck showing depth – 150m, ME00-31 hit 400ppb Pt+Pd+Au, 0.14% Cu / 7.2m
2001
Falconbridge Options property from Mustang – completes prospecting, mapping, trenching, ground and airborne geophysics.
2002
Central Zone – Drilling (860m ME02-32 to -37) anomalous PGE values in all 6 holes.
2007
EBLI property -- Helicopter VTEM – identified several shallow to deep EM conductors.
2008
Parisien Lake Grid (PLDZ) – 6 holes (1050m, EB08-01 to -06) – intersected anomalous PGE in all 6 holes.
Best Assay: 12500ppb Pt+Pd+Au, 9.3% Cu, and 0.4% Ni / 1.1m (EB08-02).
Western Areas Ltd options property from Mustang
2008
Novick Lake Grid – complete Moving In-Loop EM (MLEM) and Fixed-Loop (FLEM) surveys – MLEM detects two poorly defined anomalies not detected by FLEM.
2011-12
Parisien Lake and Bullfrog Grids – ground TDEM geophysical surveys.
2017
Bullfrog claims divested by Mustang – later acquired by 21C Metals.
2012
Mustang WSA JV drills 6 holes and extends two holes to depth. First hole near north margin intercepts 6.5m 2122 ppb PGE. The best result was from the PLDZ returned 10 m grading 0.43%Ni; 0.39% Cu and 454ppb PGE from 45m and 5m grading 0.11% Ni; 2.3% Cu and 3.2 g/t PGE from 89.4m.
2019
Resource announced on portion of EBLI not controlled by Grid. (21C Metals - 11.1 million tonnes of ore at a grade of 1.46g/t PdEq for a total of 523,000 ounces of Palladium Equivalent)

Target Areas and Follow Up
Initial follow up targets include the areas noted on the map below by the green stars. These areas have seen initial mapping and sampling. At both these locations there are kilometer scale geophysical targets associated with PGM values in trenches or drill holes. The VTEM survey flown by the Company in 2007 shows other areas of bulk conductivity which will be investigated by geological mapping and assessed. The north margin of the west lobe of the East Bull Intrusion is mineralized over a minimum strike length of 2.5 kilometers and further work is required to work up drill targets in the area.