Nickel has been the star metal performer in 2019 with a rise from under US$ 5 lb. to a current price of over US$8 lb. This price rise has been spurred by falling nickel inventories has occurred despite the escalation of a trade war between the US and China for most of the year and flattening economic growth. The most recent price catalyst was an announcement confirmed September 2, 2019 by the Indonesian government that it will institute a nickel ore export ban starting on January 1, 2020. ( the ban had previously been scheduled to come into force in early 2022)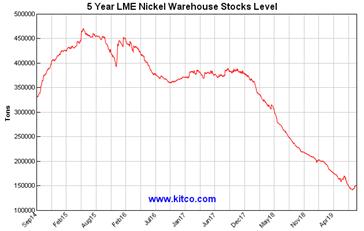 Indonesian laterite ore is mined by open cut methods and shipped in bulk carriers to China where it is used to make NPI ( nickel pig iron ) which is a low grade ferronickel used to make stainless steel. The laterite ore replaces other more costly nickel products used as an input to make stainless. Indonesia announced that it would ban nickel laterite ore previously in 2014 which led to a spike in nickel prices. The ban was partly lifted in 2017 in what then was part of a 5 year moratorium allowing ore exports which has now been reinstated. The purpose of the ban is to encourage the smelting of nickel in Indonesia to establish a value added domestic industry.
By some estimates the nickel laterite ore currently exported to China and processed there accounts for up to 10% of nickel units consumed globally – hence a significant source of global nickel supply. As such there is increased tension in the nickel market about where the nickel units will come from to replace the Indonesian ore. During the last ban there was a considerable increase in laterite nickel ore that was imported from the Philippines that helped fill the gap. Notably at the time the global inventory of nickel was much higher and there was an annual supply surplus in global nickel production.
Currently there is a much tighter nickel market with the prospect of significant demand growth from electric vehicle batteries in the coming years. While there are new nickel projects in the works there is always uncertainty about the timing and technical aspects of new nickel projects. ( particularly the HPAL projects currently being developed in Indonesia) It seems that in the past for every successful new nickel project there was a project that ran massively over capital budget and failed to meet nameplate capacity due to technical problems. In the future most large new nickel projects will need sustained periods of higher nickel prices to operate profitably and achieve project payback in a reasonable period of time.
The growth of the global economy and the stainless market will remain the key driver of nickel demand going forward but the rate of adoption of EVs will be an increasingly important factor. With Indonesia appearing to yank the rug out from under a significant portion of the nickel supply chain there will no doubt be some volatile days ahead for the nickel market.