As a 23-year mining executive and investor, it was great to see the announcement of a takeover bid for North American Palladium (TSX: PDL) by Impala Platinum (also known as Implats, JSE: IMP) for $19.74/share. This news has made PDL a great turnaround story, that in the end proved attractive to a major global player in the Platinum Group Metals (PGM) sector. The deal was driven by fundamentals, not hype, and if the deal closes it will mark a success for those investors who were savvy enough to buy below the takeover price. One of those investors that was savvy enough to invest in PDL at much lower prices back in 2015 was Brookfield Asset Management (TSX: BAM). Brookfield provided the much needed funding to complete the underground mine expansion and in return received a 92% interest in PDL (at the time PDL was trading around $5/share). Should this deal be approved by shareholders, it would represent a significant corporate, managerial and operations homerun, in a beaten down mining sector.
Grid Metals History with Impala Platinum
Grid Metals (formerly Mustang Minerals) had two joint venture deals for exploration in the Sudbury mining district, almost 20 years ago. At that time Grid Metals held two palladium projects: East Bull Lake, which we still have today, located 80 KM west of Sudbury and the River Valley South (about 80 km east of Sudbury) that was divested in 2016. It was the River Valley South property that we signed a joint venture deal with Impala Platinum in December 1999.
Palladium Price History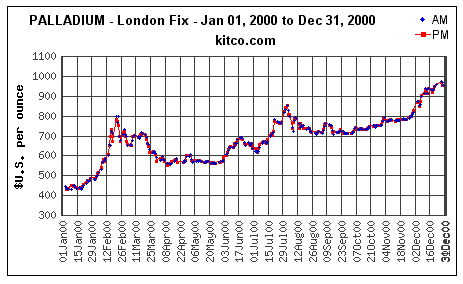 Palladium was about to enjoy one of its best years ever, continuing its price appreciation throughout the year. In January 2000 it was $350/ounce, almost reaching $1,100/ounce in January 2001 a year later. During this incredible run up in the price of Palladium, three of the world's largest platinum group metals producers from South Africa came to North America in search of new PGM deposits.
Joint-Venture Deal with Implats
For our River Valley South property , we signed a joint-venture deal in December 1999 with Implats. The joint-venture with Implats involved extensive grass roots exploration and lasted until Impala ceased funding for good in February 2003.. One of our annual exploration meetings took place in South Africa at Implats headquarters, where we had the opportunity to meet the senior management and tour several of their mines along with their processing and refinery operations.
Joint-Venture Deal with Falconbridge (now Glencore)
With our East Bull Lake property, we signed a joint-venture agreement with Falconbridge Limited in November 2000. At the time of the deal, Falconbridge was the 2nd largest nickel producer in Canada and with the surge in the palladium price , was looking to diversify into PGMs. Under the terms of our joint-venture agreement, Falconbridge invested CAD $1 million in a private placement and committed to $1 million in exploration expenditures in the first year, which was spent on grassroots exploration including geological mapping, trenching, sampling, airborne geophysics and line cutting. The data generated remains relevant today.
The Palladium Music Stops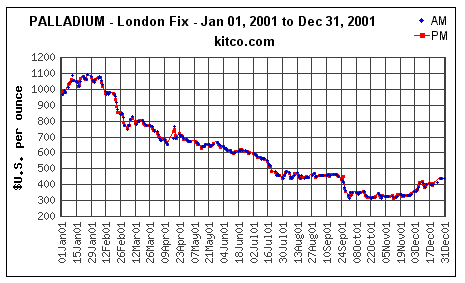 The Palladium price began to fall in 2001, closing out the year just above the $400 level after starting the year at $1,000/ounce. This decline forced the South African companies to reconsider their joint-venture agreements while focusing on production in South Africa.
We had begun to receive feedback from Implats that they were expecting a further price decline in palladium. This was as a result of feedback from their palladium customers who were advising they would be purchasing less of the metal going forward.
Implats Was Right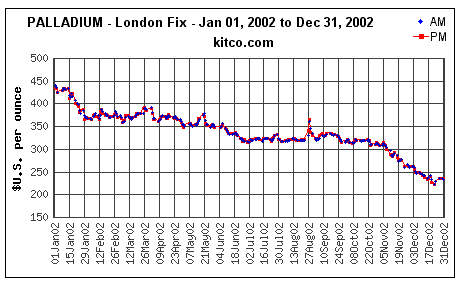 In 2002, the price of palladium slid even further from nearly $450/ounce to $230/ounce, making Implats prediction a correct one.
With all of the operating margins fully eroded in the price decline of 2002, it was the beginning of a long and protracted bear market in the PGM space.
Is Implats Right Again?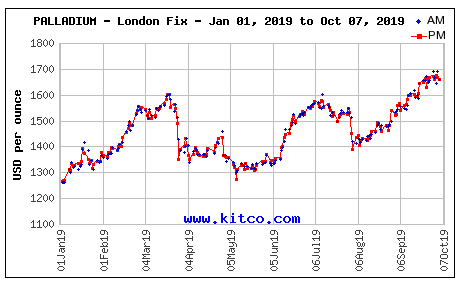 Here we are years later and we find that Implats is now buying North American Palladium, a palladium producing company that has been a remarkable turnaround story, its fortune fueled by the rise of palladium prices, stellar exploration and a strong management and operational team. Implats in its corporate presentation discussing this deal rationalizes the acquisition as providing: increased exposure to palladium; geographic diversity; and upside potential at the Lac des Isles mine and surrounding properties. Interestingly they also noted that in their view palladium prices will stay stronger for longer. Having witnessed first-hand their institutional acumen at predicting palladium prices I respect their price predictions reflected in the PDL acquisition. Certainly theirs is a highly informed view.
What Does All This Mean For Grid Metals Shareholders?
Palladium is a precious metal used by automobile producers in catalytic converters to reduce noxious tailpipe emissions. It is becoming more important in the fight for clean air and clean cars, especially as emissions standards keep rising globally, placing more demand on palladium. It is also incredibly difficult to find deposits of palladium as they are found in only a small number of geological formations globally. At Grid Metals we are excited as have recently announced a renewed exploration program at East Bull Lake, after many years of inactivity. To be successful in restarting this venture we need to achieve exploration success and attract capital to the project either in the market or through joint venture. To hear that Implats is making a billion dollar bet on PDL and Canada, it tells us they feel that Ontario and Canada are a good place to invest and that the prospects for palladium prices going forward are good. This in our view is an excellent backdrop for moving ahead on a palladium exploration project.