Overviw
With the projected increase in demand for nickel the Bannockburn Nickel Project represents a high potential exploration opportunity for Grid Metals. Grid commissioned an independent 43-101 Technical Report on the property in late 2020 to summarize the historical information, clarify the geological deposit types and recommend a suggested exploration plan for the Property. The property is located ~100 km south of Timmins, Ontario and consists of 125 unpatented mining claims subject to a 2% NSR. Access is by road and then logging trails to the property. Significant exploration has been undertaken at the Property including geophysics and 84 drill holes. In addition to a bulk tonnage disseminated nickel zone Mount Keith-type identified in 10 drill holes a number of high-grade massive sulfide nickel occurrences were intersected by drilling and are open for expansion. Initial metallurgical testing of the disseminated nickel zone was positive.
Interpretation and Summary Conclusion of Technical Report
The current NI 43-101 Technical Report on the Bannockburn Nickel Property concluded that The Bannockburn Nickel Project has the potential for developing both low-grade, large tonnage and high-grade, low tonnage nickel (Co, Pt, Pd, Fe) resources and should be investigated further."
"Analogues in the Abitibi Greenstone Belt, like the Crawford Ultramafic Complex (Ontario) and the Dumont Nickel Deposit (Quebec), share many similarities to the B-Zone at Bannockburn. Extensive exploration work by Canada Nickel Company at Crawford and Royal Nickel at Dumont, largely diamond drilling, has resulted in the delineation of large tonnage, low-grade nickel resources and at Dumont, the delivery of a positive Feasibility Study (Ausenco, 2019)."
Principal Exploration Focus
An exploration program will be undertaken at Bannockburn which will be primarily focused on delineating a large tonnage disseminated nickel deposit similar to that of Canada Nickel Company's Crawford Nickel Deposit. Additional metallurgical studies will be completed for the B Zone to confirm that the mineralization could generate a premium high-grade nickel sulfide concentrate.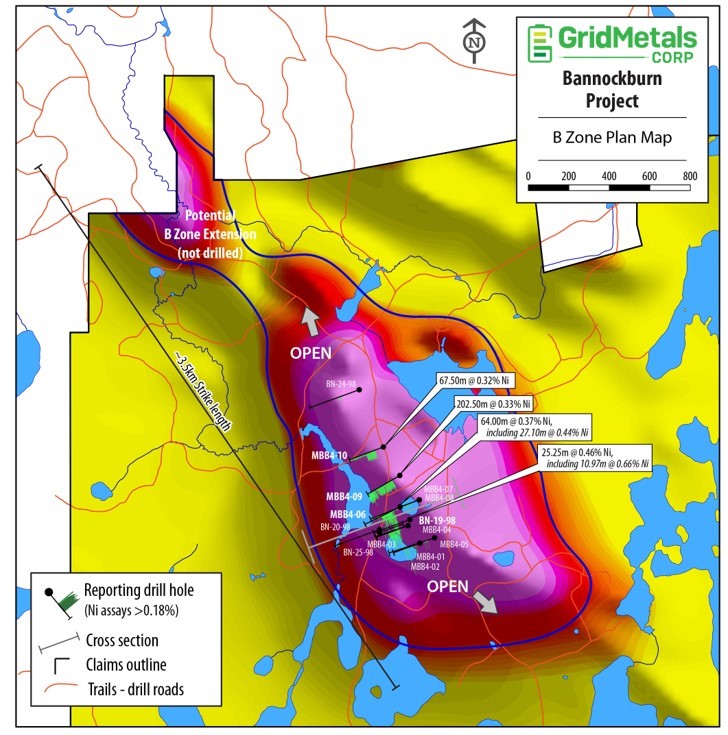 Above: Total field magnetic intensity map of part of the Bannockburn Nickel property showing interpreted outline of the large ultramafic body that hosts the B Zone Mount Keith-type disseminated nickel sulfide mineralization. Historical drill holes from Outokumpu Mining (BN series) and Grid Metals (MB series) that intersect the B Zone are also shown. Source: Grid Metals, January 2021.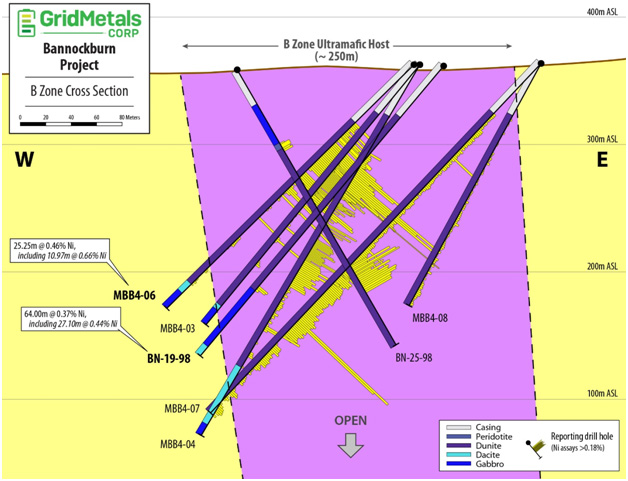 Above: Idealized cross-section through the B-Zone (looking north), Bannockburn Nickel property Source: Grid Metals, January 2021.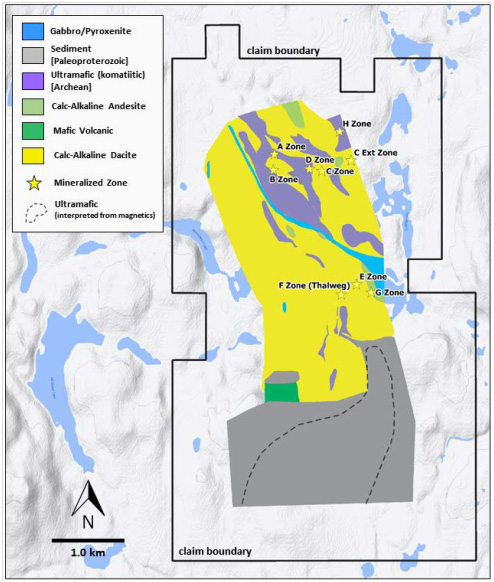 Above: Main geologic units and location of mineralized zones at Bannockburn Property. All historical drill results are contained in the Technical Report.