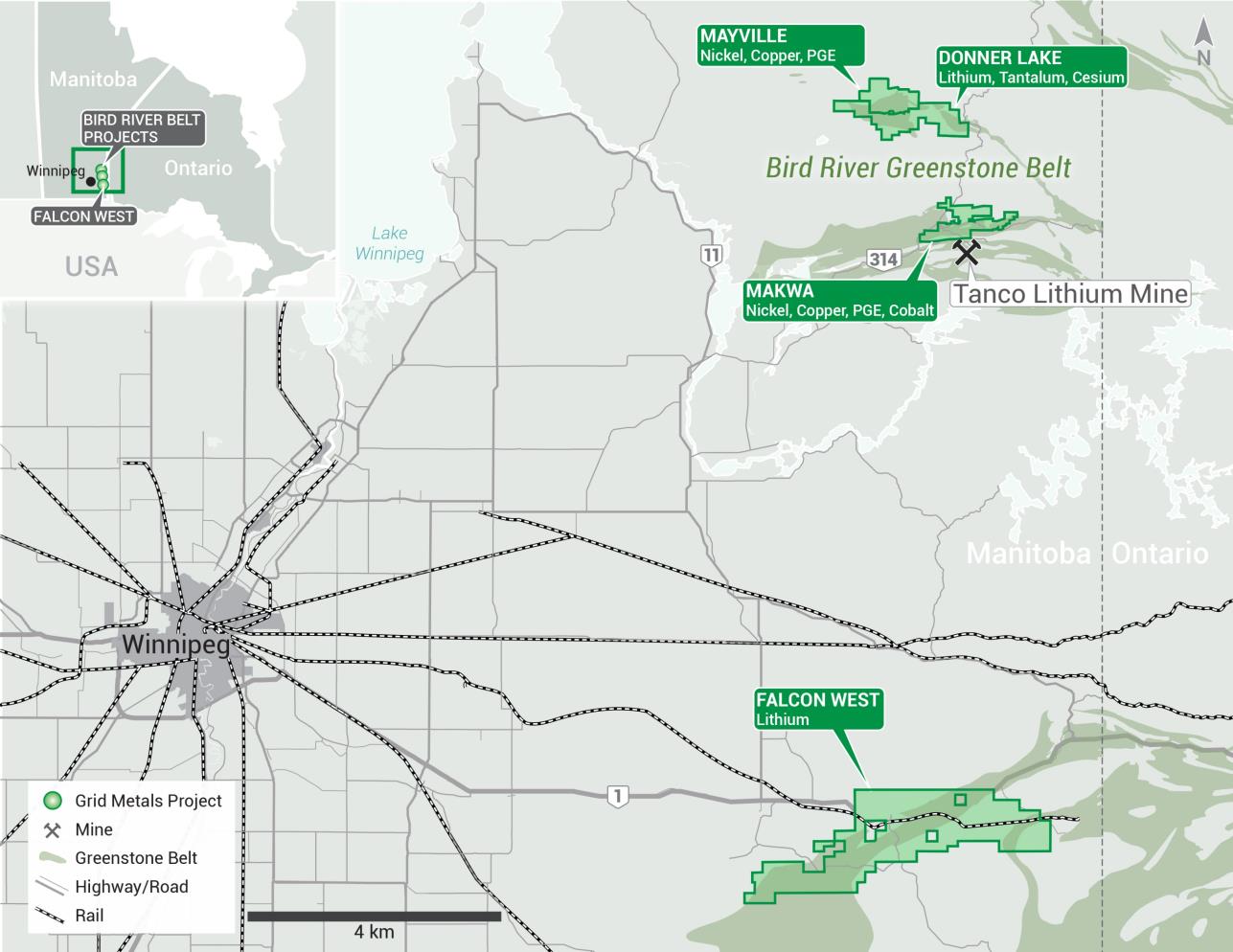 Above: Map of SE Manitoba showing the Falcon West and Donner Lake Lithium Properties Bird River Greenstone Belt showing location of Makwa, Mayville and Donner Lake Lithium Properties. Winnipeg is expected to develop into a battery metals hub for both lithium and nickel copper concentrates.
Donner Lake Lithium Property
The Donner Lake Lithium Property is a 75% Grid / 25% Lithium Royalty Corp ( LRC ) joint venture. Terms of the transaction under which LRC acquired the interest were noted in press release dated January 14, 2022. LRC has a 2% interest on the Donner Lake Property
There are four known pegmatites on the property. The pegmatites discovered to date in the Donner Lake area have all been spodumene ( lithium ) bearing. The Main Dyke is an example of an Albite Spodumene subtype with most of the pegmatite mass spodumene bearing. Drilling in 1955 on the Main Dyke ( 30 holes and Northwest Dyke 4 holes ) was completed forming the basis of the historical resource. The historical resource was estimated at 3.95 million tons at a grade of 1.28% Li2O. ( Source Manitoba Mineral Inventory File #229. Resources are historical in nature and not NI 43-101 compliant. Mustang does not consider the historical resource estimate as a current resource estimate and is not relying on the historical resource estimate as a current resource estimate until such time as a Qualified Person has reviewed and confirmed the data)
Agreement with Tantalum Mining Corporation of Canada Limited ( Tanco )
Grid announced a Memorandum of Understanding regarding the Donner Lake Property on October 17, 2022. The agreement sets out a framework for a toll milling agreement between Grid and Tanco. In 2022 Grid will complete ore testing at the Tanco Mill and seek to obtain a permit for a bulk sample also to be processed at the Tanco Mill. The agreement contemplates future toll milling at Tanco Mine and the parties splitting costs and revenues.
Exploration
Grid completed a first round of drilling at the Main Dyke in 2018, shallow holes over a strike length of ~ 775 metres.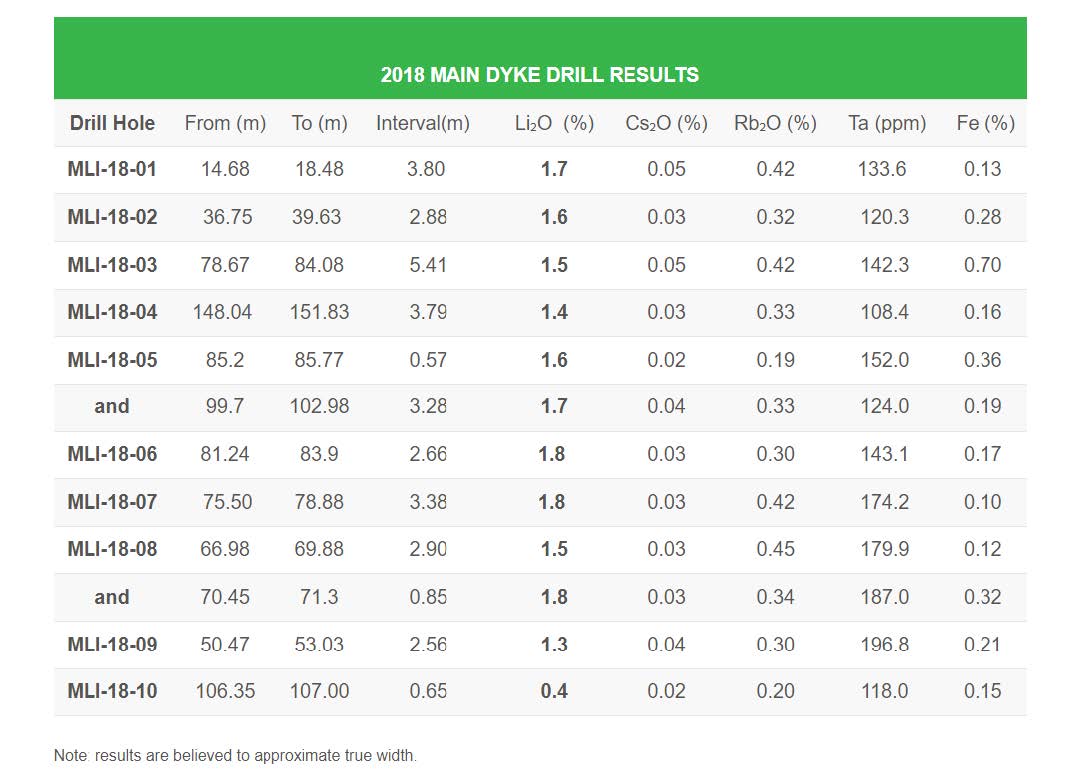 Commencing in January 2022 and with a second campaign in October 2022 Grid has been drilling at the Northwest and Main Dykes which are lithium bearing LCT pegmatites. The objective of the drilling is to delineate an initial resource at the property and also find new lithium bearing dykes. To this end Grid completed a substantial lithogeochemical survey over the spring and summer period of 2022 and completed a drone survey early in 2022.
Both the Main Dyke and Northwest dyke are steeply dipping high grade LCT pegmatite dykes.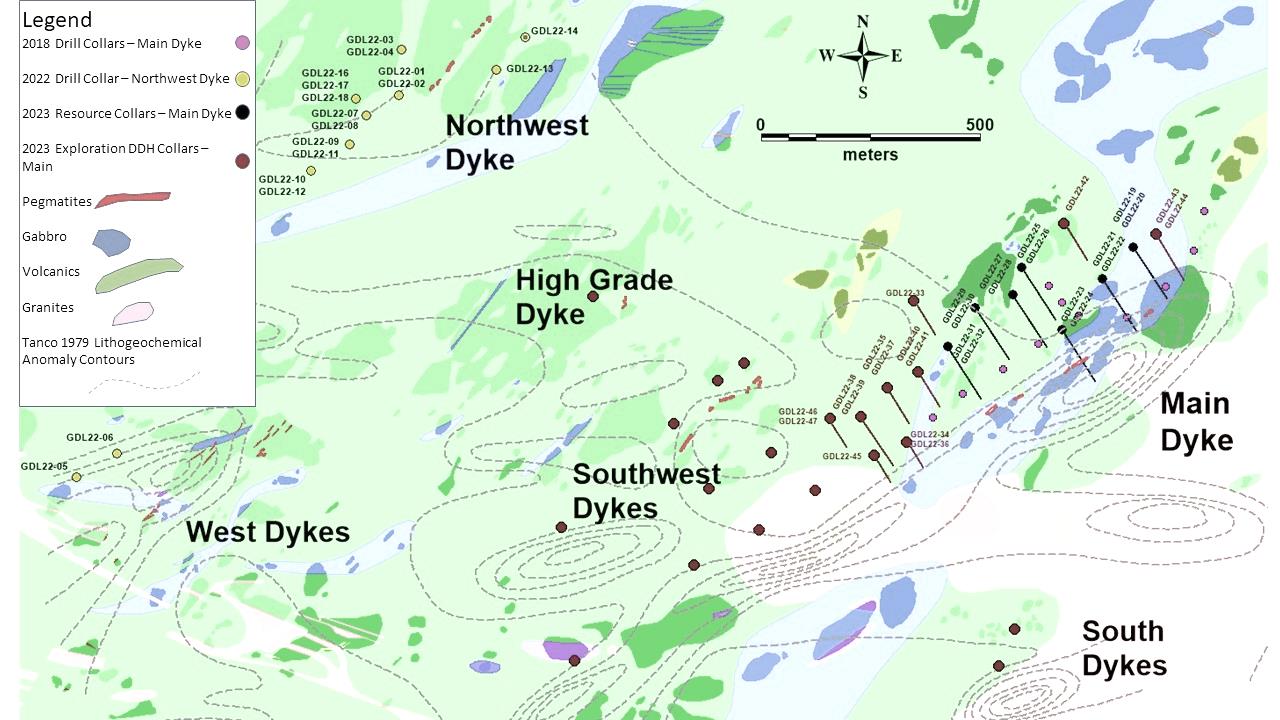 Above: Map of drill hole collars at the Main and Northwest Dykes as of January 2023.
Other Project Activities
Grid is conducting a comprehensive exploration program at the project including geophysics, geochemistry, metallurgy and baseline environmental work at the Donner Lake Lithium Project.
FALCON WEST LITHIUM PROPERTY
Lithium bearing pegmatites on the property are hosted in mafic volcanics rock units at the contact between the Wabigoon and Winnipeg River geological Subprovinces which also hosts other lithium showing along strike. Pegmatites are noted in historic assessment report drill logs along a strike length of over 6 km to the southwest of the ADL target area. Rare metal pegmatites have been documented in the metavolcanic belt from the property east to West Hawk Lake.
Grid acquired the property through the purchase and staking of mining claims in the Province of Manitoba
Above: Falcon West Lithium Property Outline claim block in red. The property covers the favourable geological contact between the Winnipeg and Wabigoon subprovinces. Several lithium bearing pegmatites (ArtDon and Lucy ) have previous drilling and high grade lithium
The initial exploration area of interest will be the ArtDon Lucy ( ADL Trend ) where a significant amount of drilling was completed over the period from 1050's to 2014. Most the exploration holes ( see following map for drill collar locations) did not have lithium values published.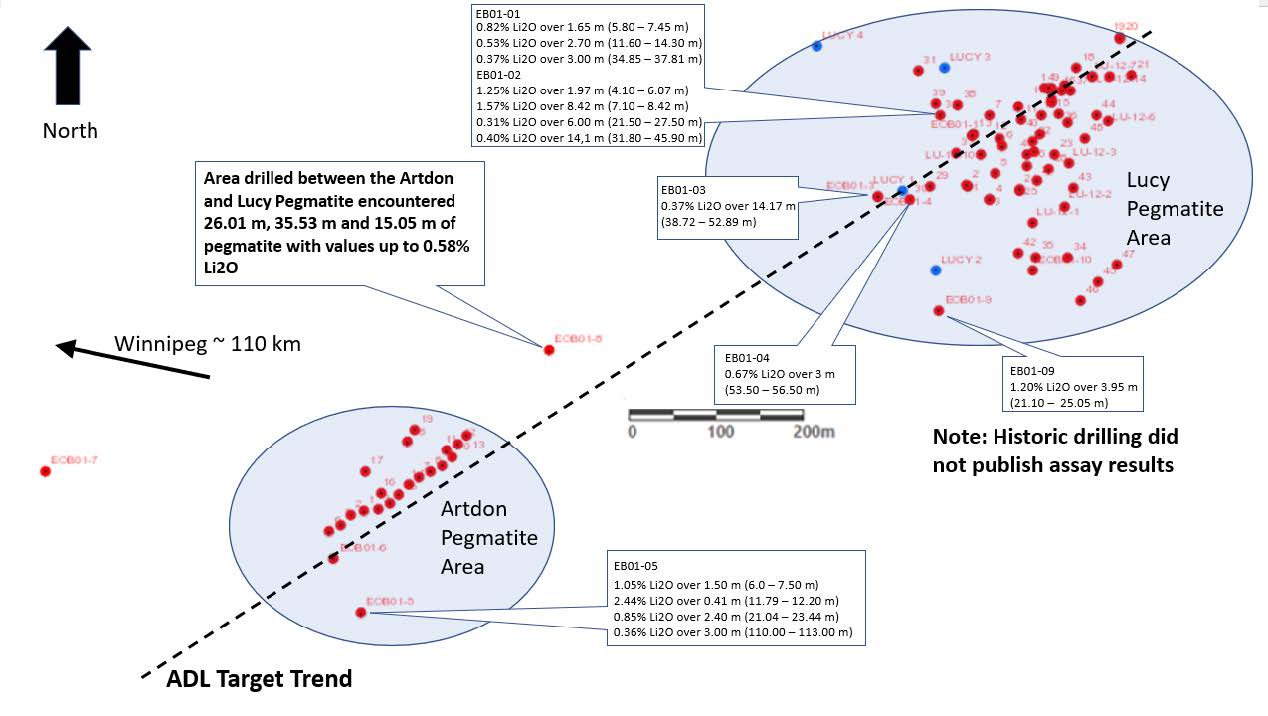 Above: ArtDon Lucy (ADL) Trend with historical drill holes and selected drill results.
Initial exploration activities will include engagement with First Nations, data compilation, geophysical surveys and then drilling.