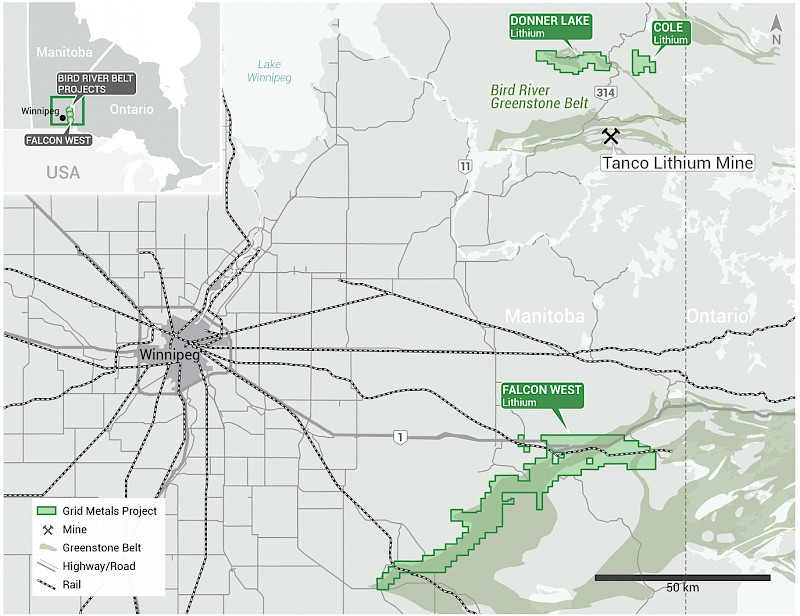 Above: Map of southeast Manitoba showing the Donner Lake and Falcon West lithium projects. Winnipeg is expected to develop into a battery metals hub for both lithium and nickel copper concentrates.
DONNER LAKE LITHIUM PROJECT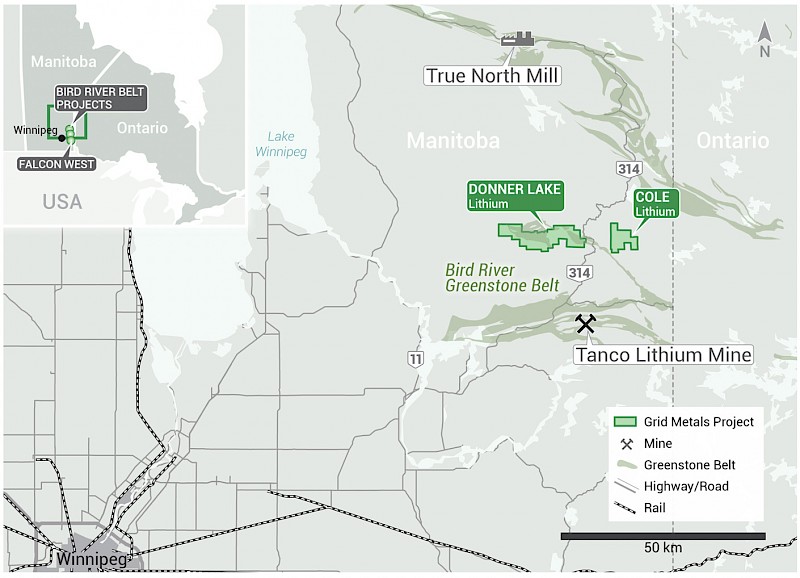 The Donner Lake Lithium Property is a 75% Grid / 25% Li Equities Investments LP, formerly Lithium Royalty Corp. (LRC) joint venture. Terms of the transaction can be found in the press release dated January 14, 2022 (HERE). Tanco and LRC each have a 2% royalty interest on the Donner Lake project.
The Donner Lake project contains a NI 43-101 compliant resource of 6.81 million tonnes ("MMt") (Inferred) grading 1.39% Li2O. The maiden resource estimate consists of 2.10 MMt grading 1.42% Li2O of Open Pit resources (cut-off grade of 0.3% Li2O) and 4.71 MMt grading 1.37% Li2O of below pit underground resources (cut-off grade of 0.5% Li2O) from the Main Dyke and Northwest ("NW") Dyke.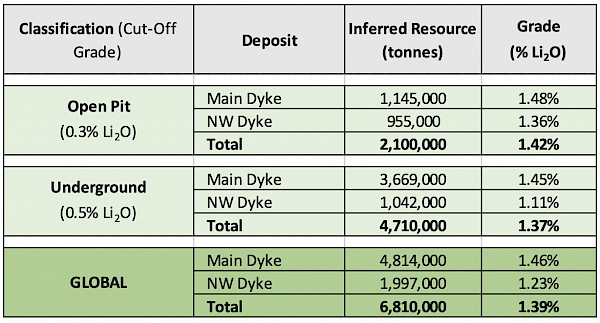 Notes for the Mineral Resource Estimate:
The Mineral Resource Estimate (MRE) has an effective date of the June 27, 2023. The Qualified Persons for the MRE are Mr. Rohan Millar, P.Geo. an employee of SGS.
The classification of the current Mineral Resource Estimate into Inferred Resource is consistent with current 2014 CIM Definition Standards - For Mineral Resources and Mineral Reserves.
All figures are rounded to reflect the relative accuracy of the estimate and numbers may not add due to rounding.
All Resources are presented undiluted and in situ, constrained by continuous 3D wireframe models, and are considered to have reasonable prospects for eventual economic extraction.
Mineral resources which are not mineral reserves do not have demonstrated economic viability. An Inferred Mineral Resource has a lower level of confidence than that applying to an Indicated Mineral Resource and must not be converted to a Mineral Reserve. It is reasonably expected that the majority of Inferred Mineral Resources could be upgraded to Indicated Mineral Resources with continued exploration.
It is envisioned that parts of the Donner Lake deposit may be mined using open pit mining methods. In-pit mineral resources are reported at a cut-off grade of 0.3% Li2O within a conceptual pit shell.
The results from the pit optimization are used solely for the purpose of testing the "reasonable prospects for economic extraction" by an open pit and do not represent an attempt to estimate mineral reserves. There are no mineral reserves on the Property. The results are used as a guide to assist in the preparation of a Mineral Resource statement and to select an appropriate resource reporting cut-off grade.
Underground (below-pit) Mineral Resources are estimated from the bottom of the pit and are reported at a base case cut-off grade of 0.5% Li2O. The underground Mineral Resource grade blocks were quantified above the base case cut-off grade, below the constraining pit shell and within the constraining mineralized wireframes. At this base case cut-off grade the deposit shows good deposit continuity with no orphaned blocks.
Bulk density values (specific gravity 2.7 grams per cubic centimetre) were determined based on physical test work from each deposit.
The in-pit base case cut-off grade of 0.3% Li2O considers a lithium concentrate 6% (LC6) Li2O price of US$1800/tonne, a mining cost of US$3.50/t rock and processing, treatment and refining, transportation and G&A cost of US$45.00/t mineralised material, and an overall pit slope of 55 degrees.
The below-pit base case cut-off grade of 0.5% Li2O considers a lithium concentrate 6% (LC6) Li2O price of US$1800/tonne, a mining cost of US$60.00/t rock and processing, treatment and refining, transportation, and G&A cost of US$45.00/t mineralised material.
The estimate of Mineral Resources may be materially affected by environmental, permitting, legal, title, taxation, socio-political, marketing, or other relevant issues.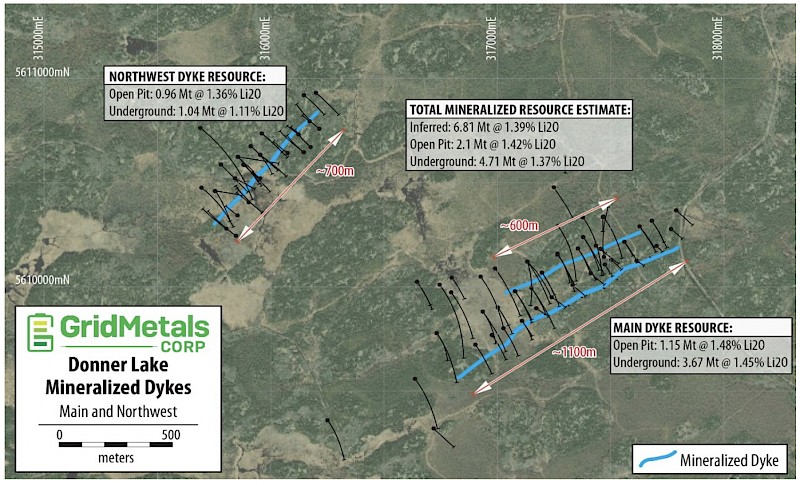 Based on recent metallurgical test results (see press release dated June 26, 2023 HERE), spodumene accounts for ~90% of the lithium in the Main and Northwest Dykes. Initial metallurgical test results from Donner Lake also concluded that standard flotation was the best method for recovering lithium from the samples.
Agreement with Tantalum Mining Corporation of Canada Limited (Tanco)
Grid announced a Memorandum of Understanding with Tanco on October 17, 2022 (see press release HERE). The agreement sets out a framework for a toll milling agreement between Grid and Tanco. Grid is in continuing discussions with Tanco to reach a definitive agreement regarding terms of toll milling of Donner Lake feed at the Tanco minesite.
Binding Lease Agreement for True North Mill
Grid announced a binding lease agreement with 1911 Gold Corporation to use its nearby True North mill for the production of lithium spodumene concentrate on July 18, 2023 (see press release HERE). The True North mill is part of an integrated, fully permitted gold mine, mill and tailings complex last operational in November 2022. It is located 85 km by road from the Donner Lake Property. An application to permit the processing of lithium material at the True North mill will be required.
The current processing facility consists of crushing, milling, centrifugal gravity concentration, and flotation circuits with annual capacity of 475,000 tpa.
Grid Metals has engaged Primero to complete a plant reconfiguration study including preliminary capital costing analysis. Primero is one of the pre-eminent engineering consulting firms with extensive experience in the lithium sector. Primero has worked with a number of lithium companies including Sigma Lithium, Core Lithium and Sayona Mining, amongst others.
Permitting of Mining and Milling Operations
Grid is pursuing a two-stage permitting process at Donner Lake. An Advanced Exploration Permit ("AEP") application is the first permit required. The AEP, if approved, will enable a bulk sample of up to 50,000 tonnes from Donner Lake. The second permitting step is an application for an Environmental Act License (mining permit). The True North Mill will require an amendment to its existing permits in order to enable the processing of lithium material.
Exploration
Geochemistry work completed in 2022 has identified a number of significant lithium-in-soil anomalies which have yet to be drilled tested. Lithium values are highly anomalous (99%-percentile lithium values are 50 ppm across Canada).

FALCON WEST LITHIUM PROJECT
The project is 100% owned by Grid Metals and covers 61,200 ha with 70 km of strike length along a highly prospective contact zone.
Lithium bearing pegmatites on the property are hosted in mafic volcanics rock units at the contact between the Wabigoon and Winnipeg River geological subprovinces which also hosts other lithium showings along strike. Pegmatites are noted in historic assessment report drill logs along a strike length of over 6 km to the southwest of the ADL target area. Rare metal pegmatites have been documented in the metavolcanic belt from the property east to West Hawk Lake. Historical work indicates complex pegmatites with high-grade cesium (e.g. 3.3 at 10.3% Cs2O) along with high-grade lithium (e.g. 12.2 m at 2.2% Li2O and 10.5 m at 2.0% Li2O)
Grid Metals is currently undergoing First Nations engagement and permitting.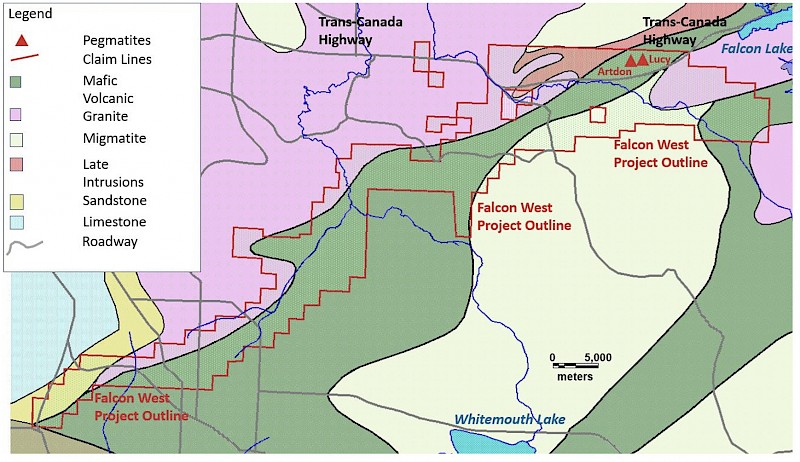 Above: Falcon West Lithium Property outline claim block in red. The property covers the favourable geological contact between the Winnipeg and Wabigoon subprovinces. Several lithium bearing pegmatites (ArtDon and Lucy) have previous drilling and high-grade lithium.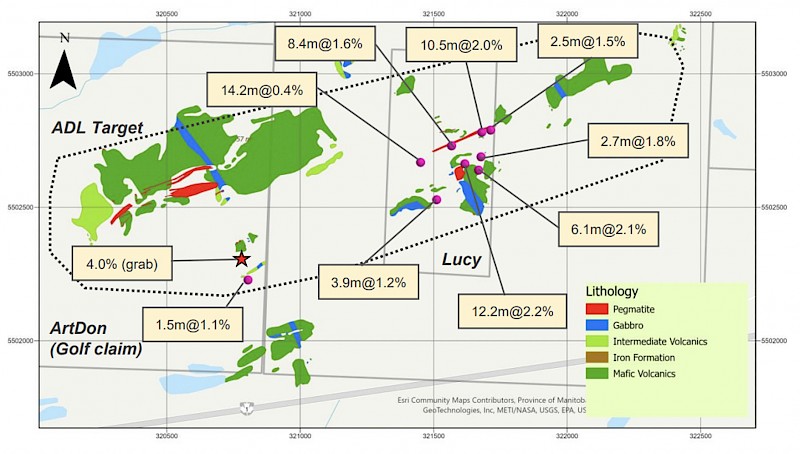 Above: ADL Target Area with historical lithium assays